This Interview was first published in 2007 on TVSA
Born and Bred in Mzansi, She's a gorgeous 25 year old. Definitely one of Africa's most loved women and I got a chance to speak to her.
Met Nonhle at the O Access launch but the way I approached her kinda confused her into thinking we had met before. We had actually met at a previous Channel O event but I was too focused on Lungsta to say anything to her beyond the introduction. Sue me for wanting to be close to a man more than a woman.
So I saw her at the launch and you know me, walking up to people like I know them and expecting them to act like they know me too.
Let me just say, there was a connection there and I can safely say, Nonhle is my kinda gal!
I am yet to meet or hear from anyone who says anything bad about her coz what you see on screen when you watch O Boma is exactly what she is, fun loving, sweet, funky, beautiful and just the respectful and media shy glamour queen that she is.
Actually she reminds me a bit of Ify in Big Brother Nigeria and I think she and Kabelo Mabalane would make such a cute couple!
Seriously, they both love God and we know Kabelo likes his women glamorous and beautiful…..ha ha ok, let's get back to business….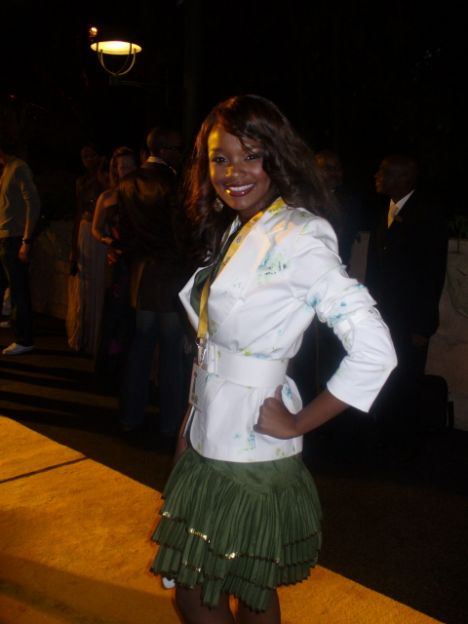 At the 2007 SA Music Awards.
BS: You looked great at the SAMA's, who dressed you?
Nonhle: Thank you, it was a David Tlale outfit and I liked it coz I didn't want to take over the Yellow Carpet, I was working and I thought it was relaxed but fitting the occassion.
BS: Yeah, when I saw it, I also thought you chose it cos you were working too. It was the same with me.
Nonhle: I loved your dress too…Who designed it?
BS: Thanks, well, I wish I could say it was designed by so and so but I got it at The Space in Rosebank. (I know I didn't have to mention the shop's name but those gals were just so awesome. That's what I call service, keep it up guys!!)
I was so tired of looking, just went in there and told myself I was gonna pick the first thing I came across and it really was the first thing I saw when I walked in.
Enough gal talk, so how long have you been doing Oboma?
Nonhle: I've been doing it for 2 years now, since December 2005
BS: You don't get bored?
Nonhle: You gotta keep doing innovative stuff, keep yourself exciting and keep your viewers excited. I can be bored, miserable but the minute I get on screen, another part of me comes out. So even if I was miserable, I forget about it.
BS: Isn't that difficult? Coz you're in that small room and there's nothing exciting about it.
Nonhle: Thing is you gotta make the hype; Oboma's secret is the presenters' craziness and drive, that's what has made the show to be the success that is is today. People like to watch Oboma coz we are so outspoken, we say what we want to say, people have an opinions as well, they sms.
The fun thing is when you say something, they will argue with you and you argue back so that makes it very exciting. The people who sms, they end up becoming friends, meeting at Oboma and I don't know any of those kids but the minute I'm on screen and those sms's come, and I see their names, like Ms Booty, Pharrell's wife, I know who they are and I go "Aah, how are you girls?"
And even when we go out, we'll be like, "Did you see what so and so wrote?"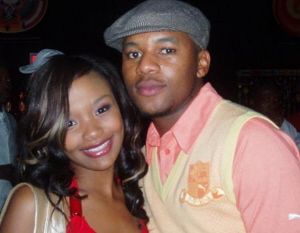 BS: Ooh Lungsta gets a lot of "I love you's", "you are cute" and this and that….
Nonhle: He does! He gets them on my show too…people will be like, Nonhle please ask Lungsta to date me for my matric dance. He's loved and he's an amazing guy.
BS: Is there somebody who watches what you guys do, like your performance on screen?
Nonhle: They monitor our performance through the amount of sms's we get.
BS: Is that fair?
Nonhle: It's not really fair because it doesn't really judge you as a presenter but it's a way to monitor and also they have to monitor coz they've got  to check so they can see on what days the show does well.
BS: Now who would be able to tell me which show is the most watched on Channel O coz I would really love to know?
Nonhle: Refiloe (PR Exec) would be able to tell you coz we don't really know and it would be nice to know.
BS: Don't worry, Shuga will find out for you…ok?
Nonhle: Yay to Shuga!!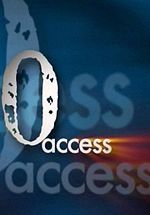 BS: Until when are we gonna see O Access?
Nonhle: Aaaawwww 5 more weeks to go!!!
BS: It's been quite successful. If there is going to be a second season, what would you say they should do?
Nonhle: Well, a couple of things have been suggested like showing more of the places, showing more of the people, the artists, their families, just a lot more things we can do. Just spend a lot of time as well and maybe have the show on for an hour.
BS: Yah, It's very short.
Nonhle: What I shot in 2 days, you guys get to see only for 20 minutes coz of the editing.
BS: And there are some things that you thought were good but they decided to edit out coz you don't have input as to what the final product looks like?
Nonhle: I don't have input on the editing. That was hard coz I'd work for ever and people only get to see 20 minutes.
BS: I'd be mad…Some people have complained about the quality of the visuals on the show.
Nonhle: It was difficult handling it I guess…
BS: Was it maybe because it was shot over there? Who did you leave SA with? (eish, am not giving her a chance to answer the first one but I'm firing with the next…mistake noted)
Nonhle: I left with Nathano, the Programme Manager and we got everything there. Quality? Maybe it's because it was the first time for everyone and perhaps it was difficult transferring from their tapes to ours…there were lot of difficulties with converting stuff, sound, so the production guys could probably tell you better coz I'm not really sure. I just know there was some problem with converting.
THE HAIR….
BS: Now tell us about the hair!! Everybody was crazy about them doing your hair like that…
Nonhle: Damn, that hair! I love hair.
BS: And what has it been like coming over here and you don't find anyone who does it like they did it in the states??
Nonhle: That hair was amazing and it was really a dream come true just to have for that moment you know? It was really cool and that lady has been doing lotsa celebrity hair
BS: Oooh yeah, she was really the pro.
Nonhle: Even the quality of the hair that you buy that side is even better and when you go buy the hair they match it with yours, it's a process and done professionally coz hair is a big market really. All these people have hair extensions so that's a big industry so people take time to do it, no chances. I got back home and my hair stylist tries to hooks me up. It's different but she tries so I'm not complaining. This is what I knew before anyway so I can't complain..
BS: Can't complain and say "Now I know better"..ha ha
Nonhle: No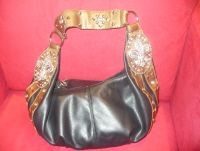 BS: So what did you buy? Did you find time to go shopping while you were there?
Nonhle: I got that bag in LA, I got a lot of free clothes..
BS: Who the hell gave you free clothes?
Nonhle: (Laughs) I got Jeans that cost a whole lot of money too.I interviewed people and if they were involved with something, they'd hook me up with whatever.
So I got a lot of freebies from different people all over the place and I came back with 3 extra bags.
BS: Oh my goodness…
Nonhle: Yeah,
BS: So it was quite the experience. A gal's dream!!
Nonhle: Definitely what a gal dreams of.
BS: So tell me all these places you went to. You went to LA, Miami, Vegas,
Nonhle: Las Vegas was great, we went on a helicopter ride over Vegas and there were all these lights.
BS: Oh yeah, Vegas by night is awesome!!!
Nonhle: It is. During the day we went to the Grand Canyon so when we flew back it was dark and seeing those city lights, you know in one night they use as much as Sandton uses in a whole month. Per night!! It's beautiful, beyond beautiful.
BS: Wow, amazing! Did you do any traveling before O Access?
Nonhle: Not much at all hey. I was just traveling around the continent coz we do a lot of Nigeria, Kenya, Botswana.
BS: So how do you feel about Nigeria, coz you go there quite often?
Nonhle: I love Nigeria. Nigeria is amazing and I love the people there, they'd be going hey Nonhle, this and that. I love it.
BS: And the place itself?
Nonhle: It's wonderful, it's different. You have to experience it to enjoy it. There's like a 140 million people that live there so the streets are packed, when you go to work you gotta leave 4 hours early.
BS: Oh no that's whack and we say Joburg is bad.
Nonhle: Joburg's nothing compared to them. There's more people and not enuff space.
BS: You love your job, right?
Nonhle: I do.
BS: So, if they say to you, "Nonhle, we want you to be based in Nigeria for the next two years." What would you say?
Nonhle: I've had that hey! I don't know if I would do it now…
BS: Why "now?"
Nonhle: Based in Nigeria?? Mmmhhh I'd have to consider a lot of things.
BS: Do you have a man in SA that you'd worry about leaving behind?
Nonhle: No but I've got family that I really love and just by being away from them for two months while I was in the states, I really missed my mother like crazy.
BS: Mommy's baby girl!!
Nonhle: Yeah, I love my mom. She's the reason I breathe. I swear, if I lost her now, I'd crumble. I wouldn't mind but it's something that I need to sit down and really think about.
BS: So out of all these countries you've been to, which one would you say wow!!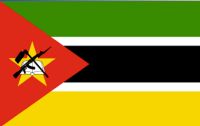 Nonhle: I love Mozambique. Mozambique has beautiful people!! You must have your story straight coz the people there are gorgeous. I haven't traveled much actually; I wanna see Angola, Ghana, Ethiopia, and Egypt. I've been to Botswana, Lesotho, Swaziland, but that's close to home so I still wanna travel…
BS: And you get to these places and people know who you are??
Nonhle: It is so weird hey??
BS: Yeah, coz people in Africa know you more than people in South Africa.
Nonhle: No one understands until they travel with us and realize the love we get out there. You'd be shocked.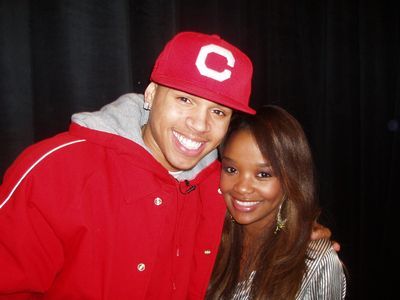 BS: Let's go back to O Access…
Nonhle: (She gets excited!) Oh O Access!!!!!
BS: You and Chris Brown, were like the biggest friends ever!!
Nonhle: He's a nice person. His mom was there and she was also nice. The thing about me is, I can be with anybody and I'll be friends with them. It's weird. You might not want to but the minute I'm chilling and chatting with you, you warm up to me.
I got a chance to chat to these people for like whole day and by 4 hours into the day, they've already warmed up to me even if it takes a bit longer but they end up being relaxed and doing funny things…
BS: And singing with Neyo…
Nonhle: Yeah…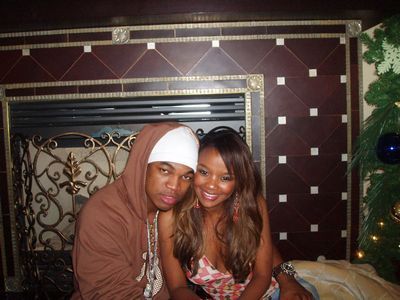 umm one of those times I'm on the fence as to whether Neyo is cute or not.
BS: Going into John Legend's bedroom and end up talking about doing number 2, we didn't know John Legend did number 2!!!
Nonhle: My mom asked how I got him to talk about number 2 and I was like well, I was just asking him what he does when he's in his space. He was so free, phoned his girlfriend, phoned his mom.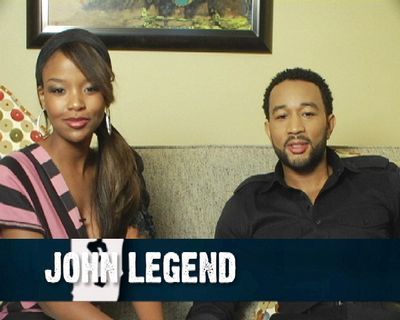 Yoh, she takes a picture with John Legend and there is space between them???
BS: Oh, so he does have a girlfriend?
Nonhle: No, he's very straight, very very straight.
BS: You sound very sure!!
Nonhle: Coz he spoke about his girlfriend quite a lot and I did see a picture of them on Heat…I'm sure he would only date cute gals.
BS: And being so close to those people, what does it feel like?? Is it the same as being close to me?? (Eish guys don't laugh at this…I had to ask)

Nonhle: (Laughs) Being next to you is actually much better my friend.
BS: Oh okay, that's great but you know I would be so overwhelmed with meeting them but you seemed so natural like it was so normal and I wonder how you remained so calm? Gal, if I sat that close to John Legend I would flip!!
Nonhle: I had to just relax and remember that I'm not here to scare them. I don't wanna scare the guys and freak out coz you scare them when you behave that way. If somebody does that to me, I get scared.
So people were like, treat them normally. I was pretty much in shock that I was actually there coz every moment I was praying like God Please help me to be able to handle it.
O Access, HE carried it for me. Questions, coz sometimes I'd be talking to John Legend and my mind freezes and I'm like oh my goodness…
BS: Yeah, coz you can't be having this piece of paper with questions.
Nonhle: Yeah, sometimes you just have to flow. I had questions in my head that I wanted to ask and John Legend would just make me freeze so I'd be like God Help me.
BS: Out of everyone you saw, who was the most difficult to interview?
Nonhle: I really did not have a problem with anybody. The only time I had a problem, Ludacris was rehearsing for the Billboard Awards when I met him so we didn't spend the whole day, like half a day and it was hectic so there was no one that was difficult.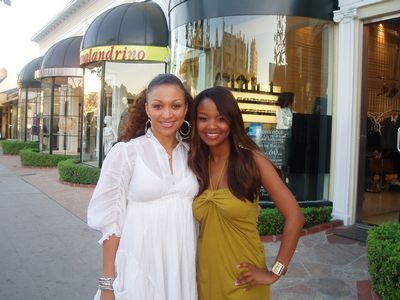 Out shopping with Chante Moore…yho check out Nonhle's hair peoples…damn!
Everyone was very nice and I was actually shocked. I kept crying at night coz I couldn't believe how much these people were so welcoming coz I honestly thought that they were gonna be nasty coz I was briefed before that "if you interview them and they're not interested, they will let you know if they want you to go, they'll just answer you yes or no coz they can".
I mean, Beyonce doesn't have to be nice. If she doesn't wanna do your interview she'll just answer your questions to be polite and not let herself open up so I was warned to prepare for that but I was shocked how welcoming everybody was. They'd be like "Come meet my mom", "come see my house" , this and that and the producers there were shocked.
I was like aaahh I guess, it's just the amazing blessings coz I'm doing what I love and when you do something that you love people see it and if you're forced to do something it shows.
So when you're doing something that you love, people are drawn to you and they wanna work with you coz they can see you are doing something that you love gal.
BS: Oh, are we talking about me now?
Nonhle: Yes, we're talking about you Brown Shuga!
BS: Oh okay
Nonhle: Yeah, you're probably started off playing but now I get people in the states emailing me links to your blog!! I also started TV just having fun, like hey, I'm on TV and then I realized that it's a serious job and people take me seriously.
It's my destiny, I'm not taking it for granted, it's my destiny. God gave me this for a reason, he could have made me to work at whatever store, I could have continued working in a company as an Events Co-ordinator, I used to do that. I quit and said I'd focus on TV because of the passion I had so if something is meant for you, it will shine through and people keep saying I was so natural, and I keep saying it was my destiny, ha ka e fostela.
BS: Oh, you speak Sotho?
Nonhle: Yeah.
BS: What else?
Nonhle: I speak Zulu coz my mom is Zulu and my father's pedi.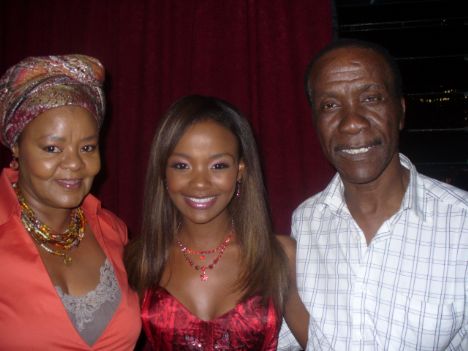 BS: So tell us about your mom!! How does it feel like to be Deliwe's daughter???
Nonhle: The most amazing memory I have of my mom, I was little, maybe 3 or 4. My mom was holding me and we were watching TV. My mom and dad were still married at the time and I was watching my mom on TV and I was saying…that's my mom and I was asking her how come she's on TV and here at the same time…
So I grew up with my mom on TV and having to walk down the street and I'd also be like, hey that's my mommy!! SO it still happens but now I'm like, "Do your thing…"
BS: Yeah, coz you also get it too. The young ones come to you and the oldies go to her…
Nonhle: And then I look at her and I'd be like, wow she raised me in this environment but I never thought I'd be doing this.
I love hair, I love make up and when I grew up my mom was in pageants. I love fashion, make up and beauty and I'm doing a job that allows me to be that.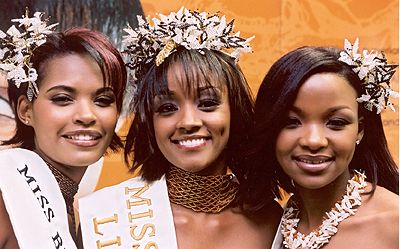 Miss Black Like Me 2003
BS: I only found out recently, excuse my ignorance, that you were actually the first princess in Miss Black Like Me, when Gareth won it??
Nonhle: Yeah, I did a couple. My first pageant was Ms Allenby at 18 , it was my first year in Varsity and I won.
(Nathano, Channel O's Program Manager interrupts to bring us drinks)
BS: Thanks Nathano, I actually wanted to find out, given the success of O Access, is there going to be a second season?
Nathano: Definitely, we're negotiating. Depending on how they go but we definitely want to have a second one.
BS: Same thing ?
Nathano: Yeah, we never covered all the artists….
BS: And it's very short Nathano, that's my complaint!! Maybe have it for an hour.
Nathano: You'll see an hour is also very long. You'd get bored.
BS: But if you make it an hour then you'll have more than one artist per episode and you'd play their videos and stuff, 30 minutes per artist. That could work. (eish guys, I had to milk this chance, how often does one get to speak to a programme manager?!)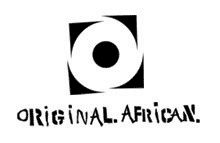 Nathano: That would be expensive!
BS: OH?
Nathano: Yeah, coz we pay for the interviews…
BS: You pay for interviews?? Which ones did you pay for?
Nathano: Yeah, sometimes they do it for PR and sometimes you have to pay to get close to them. But also being there for that time is expensive. It took us a whole month and a half to interview those people. (Spoken like a true manager, who cares about the costs, Nathano just have fun!!)

BS: So what were you doing there, besides be her bodyguard??
Nathano: Oh, is that what I was? I'm the one who needed a bodyguard!!
BS: I'm just playing…
Nathano: I was overseeing the production, seeing that everything goes on schedule etc and that she gets there. So we went together and she kept me awake for 18 hours on the plane!
BS: Damn gal, didn't you like take a book or something and leave Nathano alone??
Nonhle: I didn't do anything!!!
Nathano: I'd be watching a movie and she'd go on and on and on …you know if it was guys, we'd talk for half an hour and from there just keep quiet, watch a movie or listen to music coz my IPOD is full of music but I never got a chance to listen to it coz
BS: Nonhle was going on and on and on
Nathano: Ooohhh
Nonhle: You're complaining? I thought you enjoyed it?? You see what men are like? They never know what they want coz this is not the story that I heard!!
Nathano: Well, the story goes, Nonhle is a big talker, but that's what makes her such a great presenter.
So what we want to do is to break it up in two different sections. Go to the states do six or seven interviews and what would be different this time around is that we'd also include the UK…
BS: Wow!! So when you do that, would Nonhle still be doing it? Coz I think we should give somebody else a chance…
Nathano: Yeah, maybe we should use you…
BS: Ahh gal you know I'm joking right!!
Nonhle: So now you wanna take my job? Ahh you know she was like "Hey Nonhle, next time you go, I wanna carry your bags" Ha!!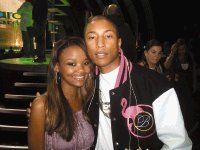 BS: Yeah, you go to your Pharrells in the states, I'll go to the UK!!
Nonhle: So many people were like if the second season happens, we are so gonna make sure you don't make it to the place.
Nathano: Let me tell you, the difficulty is that some of these guys are difficult. For example, Akon was difficult. He was like, I'm from Senegal and you South Africans are Eurocentric and stuff.
BS: Akon is the last person I would have expected to get difficult.
Nathano: The worst part for him was that his girlfriend was there flirting with everybody.
BS: Is she American?
Nathano: She's Ethiopian. She was going around flirting with everyone and he was like, "Hold on a second" and he'd go to her, it was funny. So recording some of these interviews was pretty hectic and you only get a 20 minutes show so doing an hour show would take us 5-6 days.
BS: Also if you do it again, look at the time man. Sundays at 11:00 people are sleeping or at church and now they must rush back for O Access.
Nathano: We saw that with Diamond Life the AR's were high at that time, that's why we left it there. But we also repeat it during the week to give those who missed it a chance but yeah probably next time we'll look at the time.
BS: Maybe have it on a Sunday Afternoon coz TV's so boring then.
Nathano: Yeah, maybe late Sunday afternoon. So this time we're gonna go to the UK, we're also gonna go to the festivals like Notting Hill festival and stuff…Black Music Month and so on.
BS: Yeah, that would be nice …So what's the most watched show on Channel O? Nathano: Mzansi Ridez, you know the car show?
BS: Yeah (Yho, disbelief?) Is it the most watched show right now???
Nathano: Mzansi Ridez, Oboma, O Access.
BS: And the top one is Mzansi Ridez????
Nathano: For now, yeah!
BS: You know, that's very surprising coz I don't like Mzansi Ridez!!
Nathano: Yeah, I read your article about it! And by the way, aren't you scared that Brown Shuga is gonna sue you for using her name?
BS: Who's Brown Shuga?
Nathano: You know there's a DJ in Cape Town called Sugar, She was called Brown Shuga and they wanted to sue her, for that name.
BS: Does she spell it the way I spell it? Ag anyway, nobody knows her, everybody knows me!
Nathano, are you saying I should change my name?
Nathano: No no no
BS: How does Blackberry sound?
Nathano: And then you'll fight with Vodacom.
BS: Oh dear, I can't win, maybe I shoud call myself Channel O and you guys can take me to Nigeria..
Nonhle: Yeah, she's been trying to go to Nigeria with us.
Nathano: If you go to Nigeria, you won't come back home. The girls from South Africa don't come back home. They give you Champagne, the guys are all tall, good looking…
BS: Yeah there are some good looking brothers  over there….
Nonhle: Yeah, the love that we get in Nigeria is amazing, that's why we keep going back.
Nathano: Yeah, the guys in Nigeria are charming, they'd be like how are you? They'd sit with you for 5 hours but the guys in South Africa are like noh…they don't do that.
BS: Yeah, coz they're too busy. They talk with you quick quick coz they must still go and see the "other" girlfriend…
Nathano: Ha you see now! Ok, bye guys!!
(Nathano leaves us to continue with our chat)

Nonhle: Yeah, that's my Programme Manager,
BS: He's nice.
Nonhle: Yeah, I'm very lucky to work with such amazing people. We come to work and they know what we can deliver and that's why they asked me to do O Access. I don't know "why me?" I guess it's just destiny. People are always asking me "How come you got chosen? I tell them I don't know; only God knows why they chose me.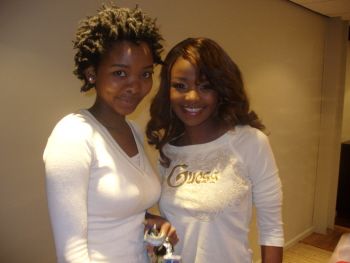 Nonhle with Nzinga, the new Channel O Presenter.
BS: And your colleagues, were they happy for you?
Nonhle: Ummm, you know what; Lungsta was like over the moon. Everybody was, Grace, coz she also had her own show and they were busy with their own stuff so they all said, props Nonhle. Kabelo was like "We know you'll take care of this one for us". Coz we all know who can do what so they were like "International, Nonhle, Yes!" The support I got from them was great and when I got back they all threw me a huge party and everybody was there. I got way too much love. I mean everybody knew that you don't fight with destiny, they were happy for me.
BS: I must say, we as young black Mzansi gals were so proud of you coz we looked at this woman, talking to these American big stars and we felt that she was representing for South African girls.
Nonhle: That's what it was about hey coz they minute they met me, they don't know Nonhle, they saw Africa and they were like "Are South African gals like you?" so they just saw Africa through me and when I spoke they were like "Is that how you guys speak?"

(Theo her producer walks in and I get worried coz I haven't asked that one question that y'all are waiting for… )
Nonhle: Is it time? (for her to go into studio for Oboma)
Theo: Just about…
BS: Last few questions…Have you ever watched the show and felt, OH MY Goodness, why did I do that?
Nonhle: Yeah, I'm always embarrassed, especially on Oboma and my mom would be like, "why did you do that?" and I"d be like "I don't know.".
I'm just me, and I come with fault coz I'm not a perfect human being.
When I present I don't wanna be like I'm reading the news, so even when I ask a question and I stutter…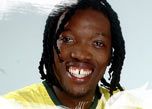 BS: Then just make fun of it…
Nonhle: And that's where Kabelo comes in coz I learn a lot from him. He's good at stuff like that coz he'll just make a joke out of it. Just go with the flow, we're presenters. We'll mumble, we'll stutter like the other day Lungsta always pronounces some word wrong but he corrected himself on the show.
I guess the reason why I'm this ways is because I'm a real presenter and I have real people behind me, I don't try to come across as if ke Princess Diana. I'm not. I'm no DIVA.
BS: When last did you communicate with Pharrell
Nonhle: Mmmmmhhhh
Theo: Mmhhhh
Nonhle: Very long time ago.
Theo: Mmmhhhh
BS: After you came back?
Nonhle: Long time ago. Just leave it at that ok? Ke a o rata..(I like you)
BS: No, don't tell me "ke a o rata" people want to know Nonhle, what happened between you and Pharrell? I don't know why but people have been saying I should ask you what happened! I don't know if it was in the Sunday Times or whatever, but people want to know what's up with you and Pharrell?
Nonhle: Umm..Pharrell's a great human being. I really had a great time meeting him and he's a good friend. We hooked up there, friendship wise, coz I met all these people.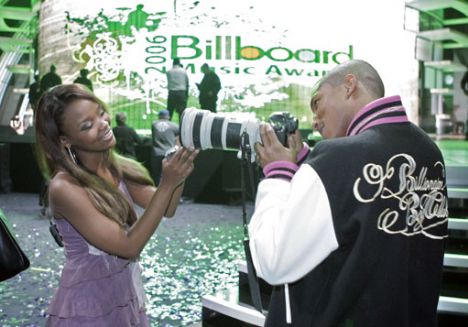 BS: You weren't even there to interview him…that's what makes this juicy…he's all up in the pictures, taking your pictures and sh!t!!!
Nonhle: (Laughs) That's what made it so cool coz we met there and became friends and it wasn't because of work. He just came up to me while I was interviewing Ludacris and these gals that were rehearsing were like "Who's she? And why is she chatting to Pharrell?" and Pharrell was like "I wanna take a picture of you." "Oh cool, you're so pretty." And I said "Hold on."
Went away to let out a scream and came back. He took more pictures and I took pictures with him and he was like "OMG, you say you're from Africa?" so we chatted and agreed to hook up at the afterparty, so he was very excited to meet me. So yeah….
BS: So, you guys are friends?
Nonhle: Well….
BS: I'm not saying boyfriend or Galfriend…I'm just asking if you're friends?
Nonhle: We're just acquaintances
BS: Eish maan that look!! I should have captured it, let's go…
Okay guys, I really tried to find out…but whatever is going on there, Pharrell is the lucky one. Lucky to have her as a friend, acquaintance (ain't that the same thing??) or whatever coz this woman right here, is one hell of a gem and I'm so proud of my African sista for being such a wonderful soul.
She made me promise that I would let you all know that she is still an IMM student and education is very important coz this industry ain't guaranteed!!
Ok, that was Nonhle Thema, now you know her like I know her!!